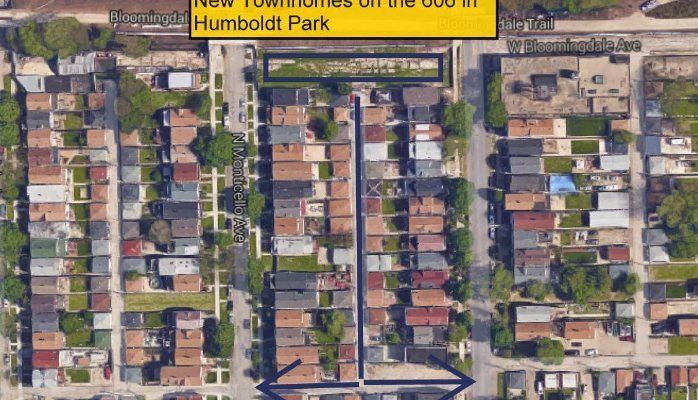 If you live in or around Chicago then you know that a huge 'buzz' in the real estate industry lately is the new '606 Trail' aka 'Bloomingdale Trail'. It's a section of an abandoned railroad line that has been converted to a very pleasant hiking/biking trail. If you live in or around Chicago you also know that our politicians have a long history of taking advantage of real estate opportunities.
I did an inspection yesterday of a house quite close to the 606. During the inspection I noticed that a townhouse development was just getting underway next door to the property I was inspecting. This new development is smack dab up against the 606 Trail. Very trendy, very 'hot' in an R.E. way.
I asked the developer how the apparently land-locked development would provide vehicular access to it's occupants and he told me that the 'T' shaped alley was going to be used basically as their driveway and that they would not have direct access to their garages or parking areas from the two streets on either side of the plot of land on which the development sits.
Now, stop and think for a minute what this will be like. Everyone is in a hurry now days; work, errands, shopping, ferrying kids to endless events, social engagements, and on and on. These dozen or so families will have to navigate a narrow alley while hoping that one of the score of other neighbors on the block isn't coming at them from the opposite direction or that a garbage truck isn't leisurely picking up trash at the same time.
If this project comes to fruition as it was described to me (and the footings were  being poured yesterday) it's going to be a logistical nightmare for everyone on the block. There is bound to be nose to nose  vehicle stand-offs in the alley; cars stranded in snow drifts blocking access; and who knows how many other complications to this crazy arrangement.
Life-long Chicagoans and those who pay attention to local politics won't be surprised that, according to my source at the inspection, the lot on which these townhouses are being built was formerly owned by the alderman of this ward and that he sold it to the developer who is putting up these units. That's the "City That Works" folks!